Welcome to the Gamed2Death Official Encyclopedia
Edit
We dedicate ourselves to publish the best articles on anything from G2D (Gamed2Death) members, and people and things we love like Retro Gaming, and Julio Iglesias. Come dive in and be educated thoroughly on the many subjects we cover.
-StevieJay

G2D Admin
It's also very likely that we'll be using this wiki as an outlet for explanation, particularly regarding recurring jokes in our videos and posts, but also encompassing pretty much anything and everything that a regular follower wouldn't know.
-Anglerte
G2D Admin
What they said.
-Anglerbe
G2D Admin
What is this website... and why do i have power over it?
-porpoisemonkey
Confused individual...
What We Do
Edit
We provide articles on game related subjects, like new games, not-so-new games, or retro game purchases that each of us have made. You may also stumble upon other articles under the subjects of movies or music. Nevertheless, there will always be something new to read, whether it be reviews, rants, or other forms of written documentaries. 
Game Library & Reviews
Edit
Our complete list of games owned by us: http://gamed2death.wikia.com/wiki/Category:Our_Game_Library
Our reviews: http://gamed2death.wikia.com/wiki/Category:Reviews
Where You Can Find Us
Edit
Our Blog: gamed2death.blogspot.com
Primary YouTube channel: 
http://www.youtube.com/channel/UCgXVEDJ_qw_LlP-uKYzlw1A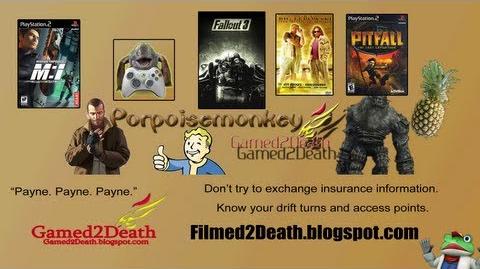 Our Other YouTube channels are as follows:
porpoisemonkey (Noah): https://www.youtube.com/user/porpoisemonkey
Anglerbe (Brennen): https://www.youtube.com/user/Anglerbe
Anglerte (Tyler): https://www.youtube.com/user/Anglerte
StevieJay (Steven): https://www.youtube.com/user/StevieJayGames
StevieJay's Main Youtube Channel: https://www.youtube.com/user/stevej2049
jburitto (Jason): https://www.youtube.com/user/jburitto
CartemJ823: http://www.youtube.com/user/cartemj823